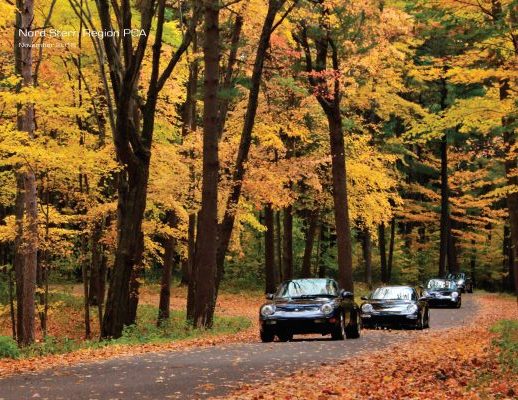 Welcome! 
The Nord Stern Region is part of Zone 10 of the Porsche Club of America (PCA), generally encompassing Minnesota and parts of the surrounding states. We are a club whose members share a common interest in the Porsche marquee, as well as diverse interests ranging from social gatherings, technical workshops, drives, tours, and rallies, to competitive events throughout the year.
We love our cars and we love to drive them both on and off the track.  And of course we love to eat, drink, and have fun with our fellow members!
Whether you're here because you bought your first Porsche or here to renew your membership, we're happy to have you as part of the family.
By joining Nord Stern you become a member of one of the oldest and most charitable regions of PCA.  Did you know the Club was incorporated in March of 1959 and has contributed over $600,000 to charities?  Come and join the fun and camaraderie of fellow Porsche owners!
Benefits of  PCA Membership
Join the thousands of Porsche owners and receive:
The award-winning PCA magazine, Panorama.  This is the "big picture" of Porsche North America.
Access to the National PCA website (www.pca.org) where you can find technical information, classified ads, events, forums, and all things Porsche.
Discounts on parts at local Porsche dealerships.
Access to other regional driving events, club races, National Parade and Treffen.
Join PCA
Visit the membership page to join the national Porsche Club of America: https://www.pca.org/join/membership.
When filling out your application, please enter NST for the region, and our Membership folks will reach out to welcome you to the Porsche family.
If your Porsche is on order and you do not have your VIN number yet, download and print the application, fill it in, and mail it along with a copy of your Porsche sales order to PCA National Headquarters at the address below.  You can also fax the documents to 410.381.0924.
PCA National Headquarters
P.O. Box 6400
Columbia, MD 21045
Your Nord Stern Membership Benefits
Our monthly, award-winning magazine where you can access local Nord Stern and related Porsche events and news.
Members receive priority registration at Driver Training (DT) and Driver Education (DE) events, social drives and tours.
Access to our monthly business meetings, charity and social events.
Be a part of a vibrant, active community of fellow Porsche owners passionate about their cars.
It's not just the cars . . . it's about the people!
Just ask any one of the Membership co-chairs: Steve Albers, Michael Steinberg, or Carolyn Veno.  (Membership@NordStern.org)
Join or Renew your Nord Stern Membership
Your Nord Stern membership fee helps offset publication costs of our monthly, award-winning magazine. 
Membership dues are $30 per calendar year or $80 for a three year period.  Your dues includes a mailed copy of the monthly newsletter, discounts for various club activities such as socials, tours, Driver Training and Driver Education track events, and access to "memberware" such as our shirts and hats. 
Membership fees support all of Nord Stern's great events!
We have the cars …
… we're looking for people.
Would you like to get involved in the behind-the-scenes operations of the Club and its various activities?  How about considering where your interest or skills would have mutual benefit by offering your time and talents to help run this 600+ member organization?  Opportunities are endless; be a worker bee at an event, help run a particular committee, or step in and be a leader.
Check out the possibilities here!
Nord Stern is on Facebook!
Join us on the interactive Facebook group.  Get information, join the discussions, post pictures, make comments and simply get involved with other Porsche enthusiasts.  It's not just the cars, it's the people!