So … Just What Do We Do In Nord Stern?
Here is a brief synopsis of activities and events offered by Nord Stern, the Porsche Club of America or, perhaps, just enough info to pique your interest?  Drop us a note if you'd like more information about Nord Stern: info@NordStern.org
Autocross
A low-speed driving event, teaching one how to maneuver one's car around a set course of pylons on a closed circuit.
Instruction is available, drivers compete against the clock. No modifications to one's car are necessary.
Some safety equipment needed (helmet).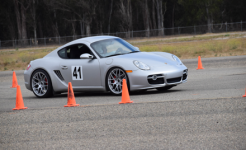 ClubTalk
Email-based list server for member subscribers focusing on car issues and discussions as well as a place to ask questions,
get recommendations and comments. Get last minute breaking news on upcoming events and activities. 
Join Clubtalk at this link.
Concours
A setting where Porsches are displayed for general viewing and/or inspection competition. Experienced judges evaluate the various models based upon cleanliness, overall condition and authenticity.
Note: Nord Stern conducts an All Porsche Show at which cars are 'shown," but not judged.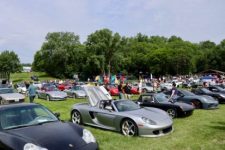 Driver Training
A driving course designed to teach and enhance high speed driving skill and technique on an actual race course. Training includes classroom sessions, on-track 'exercises' plus supervised lapping sessions.
A Pre-Requisite for Driver Ed participation and NOT to be confused with Driver Education events. Driver Training includes both Novice and Intermediate level options. Check with DT Chair for additional options.
Driver Education
High speed driving event on a closed-course racetrack (Brainerd and Road America for example) where drivers are grouped according to prior lap times. Prior Driver Training participation is required.
Performance enhancements are frequently made (but not required!).
Held during lunch at Driver Training events at closed-course racetracks, this controlled environment with a pace car provides participants an opportunity to take street cars on the track at highway speeds so that they can see what the course is like. Minors are permitted in state approved restraints and with a signed parental release.
Wheel-to-wheel competition between drivers who hold PCA club racing licenses. There is a race class for every model Porsche. Safety modifications to your vehicle required. This national program is administrated and overseen by a volunteer, trained national staff. PCA website has a full schedule of races and information. Prior race experience required and/or specific amount of Driver Education participation. Talk to our Chief Driving Instructor for further information!
An event wherein a driver and co-driver complete a predetermined route along open roads following a specific set of navigational instructions. Can be a TDS (time-distance-speed) or a 'fun' rally.
Organized gatherings of club members, affiliates and family member to meet, eat and drink beverages!
Casual educational session that span a wide range of topics, from general maintenance, through Concours prep, performance enhancements and general car/mechanical knowledge!