When:
2020-07-03T00:00:00-05:00
2020-07-04T00:00:00-05:00
Where:
Brainerd International Raceway
5523 Birchdale Rd Brainerd
MN 56401
Breaking news:  Nord Stern has booked the BIR Competition track for a DE (Driver Education) event on Friday, July 3.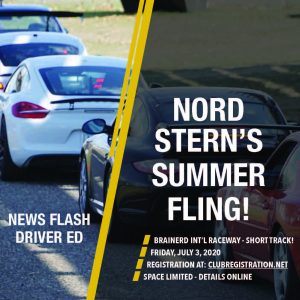 We're calling this 1-day event "Summer Fling". Sign up is available at ClubRegistration.net. It's been months since most of us have had any track time. Here is your chance to run your car on the short track at Summer Fling and sign up to run the big track at our Club Race/DE weekend July 24-26. You'll get tons of track time to make up for the long COVID wait.
This will be our first DE event of 2020. Don't forget to bring your 2020 Nord Stern DE tech form completed by a competent mechanic. (Download here.)  Run groups will be determined once we know the total number of cars registered. If we have to limit registrations due to state group size limitations, we will do so on a first-come-first-served basis using the date of paid registration. Register early. As a safety precaution, we are not allowing spectators at this event.  However, you can bring a helper or crew member but you will need to name them when you register at ClubRegistration.net.